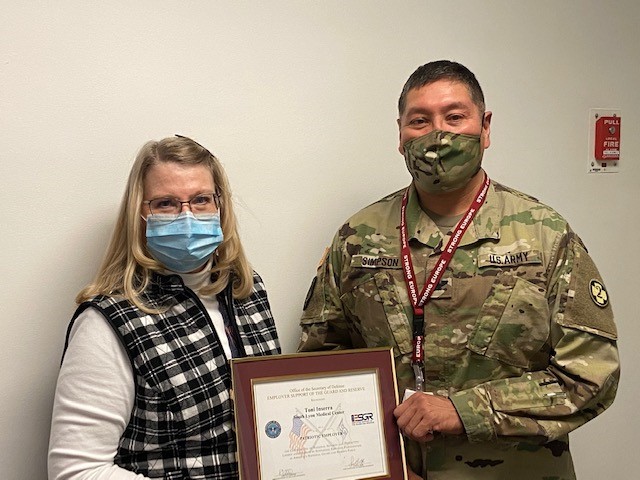 On Tuesday, January 12, 2021, South Lyon Medical Center Administrator Toni Inserra was awarded the Patriotic Employer Award by the DOD – ESGR (Department of Defense – Employer Support of the Guard and Reserve). Inserra was nominated by Colonel Loren Simpson, MD, calling her a true patriot. Simpson is a physician at South Lyon Medical Center who also serves in the United States Army Reserves.
The Patriotic Employer Award is given to recognize employers who support citizen warriors through a wide-range of measures including flexible schedules, time off prior to and after deployment, caring for families and granting leaves of absence if needed. Inserra, who said she was humbled and honored by the award, commented that Dr. Simpson is a key member of the medical staff and leadership at South Lyon Medical Center. His service and dedication to the nation is reflected in his commitment to South Lyon Medical Center.
Simpson, who will soon be deployed for this third time since joining SLMC full time, said that he appreciates Inserra's support and does not have to worry about his employment. He is given the time needed to serve his country and can focus on his mission knowing when he returns, his position is protected.
Congratulations Toni Inserra!